What Employers Want to Hear at Sales Interviews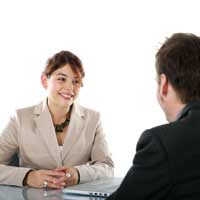 There are certain things that a potential employer wants to hear when they are interviewing people for a sales job in their company.
Why not prepare yourself for the interview by taking on board some of these interview tips, designed to give you the best possible chance of gaining your dream job as a super sales person, with an excellent basic salary and a great commission structure.
Success is sales is easy to see – it's all about hitting your targets and winning new business. Remember that this is the motivation for all companies when it comes to recruiting new people into their sales teams – are you going to make them money?
This is the question that your interviewer will have at the back of their mind throughout your entire interview, so it is a good idea for you to use that as a foundation for all your answers. Of course, you do not want to look really cheesy and obvious, so don't be too direct with every single answer, but just bare in mind that this is the whole purpose of your potential employment.
Facts and Figures
Your potential employers will want to hear that you know your facts and figures about clients, commissions, sales results and expectations. You cannot just trot into an interview for a sales job and be wishy washy about your sales facts and figures. Make sure you know them clearly and honestly. And no, don't fib about them – by all means show yourself and your achievements in the best light, but fibbing will catch up with you and they won't believe anything you've told them.
Ambition
Employers will want to hear that you are ambitious. They will think that if you are ambitious about your own career, you will be able to achieve excellent sales results for the company. That does not mean that you need to answer the 'where do you see yourself in five years' question with the Gordon Gecko answer of 'behind your desk', but do show that you are passionate about moving up the career ladder and, consequently, will get great results.
Ideas
You will need to show that you have great ideas for boosting the sales potential of your new team. Don't bound in and take over the show, but there is nothing wrong with having ideas of your own. You want to seem like they cannot do without you, that your exciting ideas will be great for the company.
Network and Contacts
There is nothing potential employers love more than knowing you have a great network of contacts that you can use to your, and their, advantage. After all, this is the reason most people get headhunted – their new employers sees the value of the people they know and the contacts they have. Don't give all your names away at interview though – be smart, keep your cards close to your chest, just make sure you hint really clearly about the value your network of contacts can bring if you are taken on.
You might also like...