What Not to Say on your Application for a Sales Job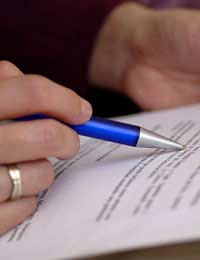 In the crazy world of sales job applications, what you write and how you present it speaks volumes.
In order to bag the sales job of your dreams, you need to make sure that your application form, CV or covering letter is the best that they can be. The harsh truth is that you may not even be considered for the first interview stage if your application is a let down, let alone be offered the sales job.
In order to make your application the best it can be, there are a few pointers that you should bare in mind. It can be too easy to rely on spell checkers and templates for your covering letter, CV or application form, but really nothing beats a bit of personal effort as too often mistakes can be missed, or context can be wrong.
Don't forget that spell checkers just make sure that the words are spelt correctly – it very often lets bad grammar slip through the net! This make a terrible first impression and is a sure fire way of getting your application thrown out.
What Not To Say on Your Personal Statement
Most applications or CVs will have a personal statement, or personal profile. All too often people make the mistake of being either too much of a show off, or not enough. It is important to get the balance right because, after all, if you don't tell potential employers about your achievements, how are they supposed to know? However, if you look like you love yourself and will be a really irritating colleague, you will miss your opportunity.
The best way is to write the statement without using the first or third person pronoun. By writing the statement as 'I am a great sales person…' or 'Sally is a great sales person…' you cannot help but sound either quite immature, or a bit of an egotist. The best way is to write 'A great sales person…' – you may think this sounds strange, but once you have written the whole application form or CV in this form and then read it back as though you are the client, you will appreciate that it is more professional and easier to understand.
What Not To Say about Your Job History
Regardless of where you are writing about your job history – on your application form or on your CV – there is no need to be painfully honest about your mistakes. Of course, you must never tell a fib as it will get found out, but you need to be able to write about your job history in a positive manner.
If you were sacked from your last position, you do not need to write this on your application form or your CV, but do be aware that you will probably need to talk about it at interview so you ought to have a positive way of explaining the situation. When this comes up at interview – and it will – be careful not to just blame your past employer as it will not look genuine. It is better to say that there were some difficulties, explain them briefly, say what you tried to do to resolve it and then say that you were unable to continue in the role.
Don't be overtly critical about your past employers or you will look bitter and difficult to get along with.
What Not To Write in the Hobbies and Interests Section
There is always a 'hobbies and interests' section on a CV or an application form for a sales job. Be careful to not write any sort of practice or belief that could be considered too personal or contentious – it is unnecessary to confuse your personal life with your working life, although if you are applying for a job that requires such beliefs, such as a religious role, you will need to include it.
It is best not to write about any particular football team, religious group, political leaning or sexual preference – wait until you know your colleagues a little better before you share such details.
You might also like...