Using a Recruitment Agency to Find a Sales Job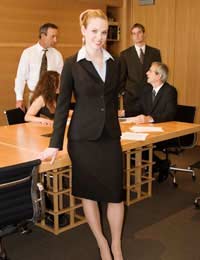 Recruitment agency reputations are often not too flattering. They are often considered to be money grabbing and obsessed with squeezing people into jobs that don't suit them, or never returning your calls. Added to that the joys of going for an interview only to not get any kind of feedback for days and it is perhaps a little understandable why recruitment agencies are not always universally loved.
However, if you are looking for a new sales job, you could do worse than use a recruitment agency. If you are a little bit savvy and take the responsibility of your sales career in your own hands, rather than relying on a recruitment consultant, you can take the best of what the recruitment agency has to offer.
The fact is that many recruitment agencies do have excellent jobs available – you may not like how they do business, or the recruitment consultant that has been assigned to you, but if you know how to play the game, it can be a very positive experience.
Find the Right Agency
The first thing you need to do is work out which agency is best suited to you. Don't go thinking that you will spread your net a little wider and register with all the half decent recruitment agencies in your area – you will just annoy them and you will end up with no one working particularly hard on your behalf.
Start by putting your dream job title and ideal location into Google. (No, not 'chocolate taster Maldives', although it's worth a try, more like 'financial sales manager Manchester') This will then bring up a list of recruitment consultancies and companies that deal with this area. Use this as a starting place – check out their websites and call them up if your like their style and it seems like they have suitable vacancies.
When you speak to a consultant, tell them about your job search and the types of sales job you are looking for. You will very quickly know if they are on your wavelength, and, if so, you can take the next step of having a registration interview with them.
Making the Most of Your Recruitment Agency
Once you have established which agency best suits your requirements, you should try to make the most of it. Too many candidates think that the recruitment consultant will call them all the time and update them on their progress – some might and they will certainly contact you if they think they can make a placement, but it is a good idea to tug their arm once in a while.
How recruitment consultants work is that when they get a new vacancy in they look through their records to see which candidates are most suited to that role. They then contact them and talk to them about the sales job. If your name is on the list, they may not call you if they already have a handful of candidates interested in being put forward before they get to you.
By keeping in touch with your recruitment consultant, you make it more likely that they will call you quicker and your name will be higher up the list. Don't hassle them, but the odd call or email once a week will not do you any harm.
You might also like...