Could you Handle Sales Targets?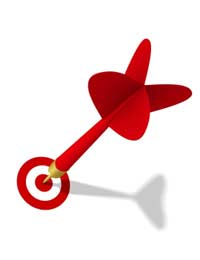 There is no point thinking you are going to be a demon sales person if you cannot bear targets.
Sales are all about targets. So many targets, in fact, that you can get thoroughly sick and tired of targets pretty quickly. Daily targets, weekly targets, monthly targets, three monthly targets… you get the picture.
Some people flourish when they are set targets. They are the kind of people that say 'I'll show you!' when someone doubts their ability. If you are actually more likely to say 'Oh, Ok then, I'd better stop', then maybe sales are not the career for you.
The Good Thing about Sales Targets
Sales targets are a great way for both the employer and the employee to quantify their sales achievements and give them a focus. As sales are all about making money, it make sense that targets are needed to ensure that you are all going in the right direction.
Rather than fight against sales targets, or somehow see them as in issue in your job, it is far more effective to consider them helpful in your career. By being clear in your sales targets you are able to see what you have achieved, gain a sense of perspective in the development in your career and keep a handle on your earning potential.
The Down Side of Sales Targets
If you are asking yourself if you could handle the relentless pressure of sales targets, you ought to look at how you have handled pressure before. Think back to other times in your life where you were expected to perform at a high level when someone else demanded it – think of your finals at university, or completing your A Levels or a dissertation – how did you feel? Did it make you panic and feel out of control, or did you rise to the challenge and feel relaxed?
There is no better or worse as we are all different and flourish in different circumstances, but it does show that you may not achieve your highest standard of work in a highly targeted, competitive environment.
Sales targets can be very hard to handle as you can feel as though you start each month at naught. Rather than be building up your experience and your career, when your targets are reassessed every month it can be disheartening. It can also be a real pain to see all your hard work dissolve in a negative phone call – just when you had built up great rapport with a client, pitched to them, answered all their questions, maybe done some stuff for free. Then they call you and say 'Thanks for all your help but we're going with Doug over at Digitas'. Not only do you feel like throwing the phone across the office, but you also see that nice fat commission go up in smoke.
If you think you can handle this and stay positive in spite of the ups and downs then a sales career might be just right for you.
You might also like...
Targets are the hardest part of sales, simply because they're relentless. They need to be realistic and somewhat elastic (some times of year are always going to be better than others) or you'll simply end up depressed and stressed when you can't meet them. There also needs to be more help than just dismissal for failure.
Walter
- 26-Sep-12 @ 1:52 PM