The Sales Persons Guide to Writing a CV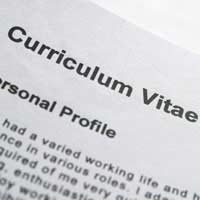 Too many job seeking sales people underestimate the importance of their CV when applying for sales jobs.
There is no point just writing your CV like any other job hunter if you want to stand out and get the best possible sales job – with the best possible basic salary and commission structure.Why not see your CV as a sales tool? Really maximise the impact of your CV, without putting off potential employers. There is an awful lot you can do with two sides of A4!There are rules for writing a CV that need to be taken into consideration when you are preparing your CV for sales jobs.
It is best to keep your CV to no more than two pages – try to fit the information neatly onto two pages, rather than having a great long gap of blank paper at the end of the second page.
Write a clear, positive profile at the beginning
Do not repeat yourself
– both in terms of using the same details for job descriptions or writing the same company name if you have been promoted. Write about being promoted in the job section, rather than have a long list of clients which are actually all the same company – you will look like you change jobs too often. Unless…
If you have never changed jobs and your CV only has one or two companies listed over a period of a number of years, highlight your career progression clearly or you will just look like a plodder who is not bothered about their career, least of all is dynamic enough to be a super sales person.
Make your job titles and company names clear
– it is true that most HR managers or recruitment consultants skim read CVs at first, only reading the ones they are initially interested in, in more detail. Make sure yours is one of them!
Use good quality paper
If you are printing out your CV and sending it by post or delivering it in person, make sure the page break is in the right place and that you use good quality, heavy paper. Most people choose white paper, so you can choose another pale colour to make it stand out, but this can look a little dated.
Use a clear type face
Don't go thinking that some wacky type face or crazy layout will make you look cool/innovative/exciting – it won't. Just stick to a classic type face – Ariel is modern and clean.
When you are sending your CV by email, check how it looks by emailing it to yourself first.
That way, you can see how the layout looks, where the page break is and whether the title is clear. Perhaps even do this with a trusted friend too to get their opinion.
Now, the biggest CV writing tips for wannabe super sales people is to make sure that you quantify your sales achievements. The fact is whatever university you went to or what other clients you have worked for, what potential employers most want to know is – are you going to make them any money? So make your achievements clear, your sales figures, your targets and the added value you bring to your current role.
You might also like...