How to get an Interview as a Super Sales Person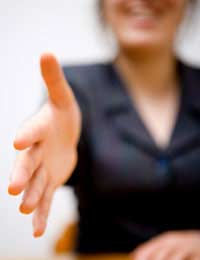 There are plenty of sales jobs available it you know where to look – even in times of economic downturn, many sales people find that they can negotiate better commission or contracts, as the company profits depend some much more on their success.
However, these excellent sales jobs are not always found through the traditional means. You cannot rely on recruitment agencies or the appointment sections of the newspapers and trade press if you want to find a really challenging opportunity.
Sell Yourself!
Getting an interview with a company as a sales person is all about selling yourself. If you do not have the recruitment consultant playing the middle man for you, or a clear application process marked out in the job advert, you need to take control of the situation.
Taking control of getting yourself an interview and, hopefully, as new sales job is a great confidence boost as well as a terrific way to stay in control of your career as a super sales person. As selling is what you're good at, why not sell yourself? It saves the company's the recruitment fee and allows you to target your ideal company, rather than just the ones that the recruitment consultancy knows about.
Find the Opportunity
The best place to start is by thinking about what company you would really love to work for. Think about what competitors would put value on your industry knowledge, or what areas of your life you could incorporate into your career. There is a crazy belief that somehow you are not supposed to enjoy your work – we have all come across people who seem to almost show off about how much of a hardship their job is.
If you have a passion for music, think about the sales possibilities in the music industry, or if you really adore cooking, find out about sales opportunities for specialist food producers or hotels.
Once you have a list of potential target companies, find out what you can about them. Nowadays, a morning spent Googling can give you all the results you need – no need to trek down to the library! See who the HR manager is, what their company culture is like and what projects or opportunities they are working on.
Get That Interview!
Now you have the information you need, you can telephone your target companies. Set aside a day to call, have a clear workspace and make sure you are not going to be disturbed. Don't think that you will make a good first impression on the phone if you are calling from a coffee shop with loud music and a poor signal.
When you have the HR manager or line manager on the phone, say you are calling to ask if you can send in your CV, or that you are keen to speak to them about potential work opportunities. Say why you want to work for that particular company and that you are keen to meet with them to discuss possibilities.
Be open, friendly and positive on the phone – this in itself will show that you would be a good addition to the team, in conjunction with the confidence and tenacity to call them speculatively.
Follow up the call with a copy of your CV by email and let them know that you are a good catch!
You might also like...