Top Tips for Looking for Sales Jobs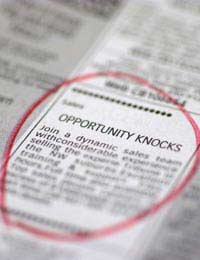 Although it can be pretty easy to find a half decent sales job, it is far harder to find a really great sales job.
In order to bag yourself one of the more lucrative sales jobs – think better commission structure, more glamorous perks, nicer location, company car, more interesting product or service to sell - you need to see yourself as the product and pitch!
Know Where to Look
There is no point thinking that a great sales job will just get handed to you on a plate. The fact is the very nature of sales means that the people competing for the best sales jobs know how to make the best of themselves. In order to be one of the people that gains a great job in sales, you need to make it your business to find the opportunities and grab them with both hands.
In order to start your job search, you need to identify the best places for finding job vacancies. Your career will no doubt already have moved in a certain direction, so it won't simply be that you are looking for any sales job, more that you want to utilise your sales experience in a particular role or sector of sales.
So, it's worth identifying exactly where your sales skills lie and then you can get looking for the right job opportunities for you.
There will probably be a trade magazine or publication dedicated to your industry sector, so this is a good place to start. The recruitment or appointment section is a likely location for opportunities, but don't forget you can get contacts and info in the editorial content too.
A look on the Internet is a sure fire way to find super sales jobs – a great way to find out who the specialist recruitment agencies are is to put your ideal job title and location into Google.
Write a Great CV and Cover Letter
It is important that your CV represents you – that doesn't mean make it all wacky, or you'll just irritate people – have a list of quantifiable sales achievements and your current role written clearly and positively.
Be careful not to repeat yourself or say anything negative about your current or past colleagues.
With a cover letter, it is worth have a couple of versions depending on whether you are applying for an advertised vacancy or if you are applying speculatively. Don't waffle – keep it sharp and to the point. Say why you want to work for the company and what you feel you have to offer – always remember that sales jobs are about making money, so show how you have been profitable for your previous employers.
Sell Yourself!
It is true to say that the best sales jobs do not get advertised – you won't find the most exciting opportunities in your online job search. You need to hunt them out – use your personal network to ask around and see what companies are recruiting, read the trade press and call up companies directly or go to trade exhibitions armed with copies of your CV.
You are your own best asset – your sales skills will be immediately evident, which will be terribly appealing to a potential new employer.
You might also like...