Top tips for Holding your Nerve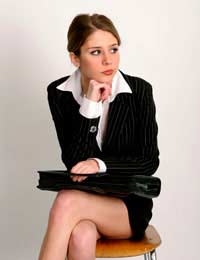 It is important to be able to hold your nerve as a sales person because there will often be times when you have to negotiate with a client and neither one of you wants to back down.
The art of negotiation, winning business and holding your nerve is a fine one – too much and you are the type of 80s ball-breaker no one wants to do business with, too little and you'll never reach your sales targets as you sell too low.
It can be particularly difficult to negotiate hard when you need the money. Those tantalising sales meeting at the end of the month when you are just off target can be a breeding ground for discounts and desperation. However, they can also be the time that you hold your nerve the strongest and negotiate the best, because it really means something to you.
Expect to Negotiate
Holding your nerve when you are selling to a client is a key part of being a good sales person. You must expect to negotiate when you are sales person and see it as an integral part of your job, rather than an annoyance at bad meetings.
Prepare to negotiate and know your boundaries. Perhaps you know that the customer really needs your product or service, or that they have just been let down by their current supplier and you can go in and make the sale without lowering your prices. By doing your homework before you try to make the sale, you will be armed with the knowledge that can make all the different.
Knowing your boundaries is all about understanding what you can and cannot negotiate. Ask your boss and be clear what freedom you have to make the sale. Perhaps you are allowed to discount by ten per cent, or that you cannot take any money off but you can add in extra items or services at a discount or for free.
The Negotiating Process
As you have done your research on the customer you will have the upper hand. You can tailor make your negotiating to their needs and will be more likely to make the sale. This is a great way to hold your nerve as you will know that you are pressing the right buttons, rather than just desperately trying to appeal to the customer.
Be prepared that the customer will try to call your bluff. This is really tricky, but it is exactly where you most need to hold your nerve. Be prepared to walk away. Of course, this is easier said than done if you really, really need to make the sale, but if you can it will help in the long term. Your client will respect you and will know that they cannot just keep pushing and so you can then start to negotiate with boundaries.
However, it may also be the end of the potential of this particular sale. This is hard to swallow, but it is worth bearing in mind that it is often the clients that negotiate the hardest without making a sale that can be the hardest to please in the long term. Clients that negotiate fairly but do not try to break you will usually be better to work with and less concerned with picking over every little detail.
You might also like...