Should you Offer a Discount?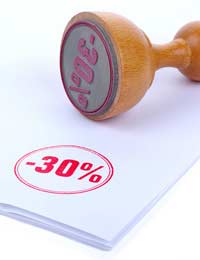 Offering a discount is a necessary evil in sales. You don't want to give away too much but neither can you afford to lose business just because you are too stubborn to be flexible.
Can You Afford to Give A Discount?
The art of discounts is a tricky one, because you cannot afford to have your reduced price become your standard price. All too often sales people negotiate down to secure a new client and then find that they can never raise their prices up to the actual rate because the customer is used to paying the discount rate.
The trick to offering discounts is to not shout about it – unless you are doing a particular special offer, in which case you need to go marketing crazy and make sure everyone knows about this great offer, for a limited time only!
You don't want it to be widely known that you often or routinely give discounts as it undermines the quality of your products and services and makes it so you are unable to charge full price for anything, making budgeting and forecasting very difficult.
It is also important that you do not only compete on price. Unless you business model is such that you aim to be the cheapest at what you do, it is better to highlight your business on another issue, such the quality of your after sales, the added value of your product or the speed of delivery.
When Is a Discount a Good Idea?
Offering discounts can be an excellent marketing opportunity. You can offer a seasonal deal, or an end of range deal or all sorts of product specific discounts. You need to appreciate if you can afford to offer a discount alongside the fact that the offer can bring in new clients.
If you are about to introduce a new product and you have loads of the old version in stock, offering a deep discount is a great way to clear some space. Some companies now chose to sell their surplus stock on line on their own site or on Internet auction sites though, rather than make their shop or business look cheap or unsuccessful by having loads of discount products.
Is Your Pricing Competitive?
Many companies that end up giving product discount do so because they set their process too high in the first place and put off clients. They then have loads of stock left over and have to reduce it. It is far better to make sure your prices are competitive in the first so that you secure client purchases at a fair price.
Using the Internet you can easily find price comparison sites or look at your competitors service charges. Compare the whole price, rather than just the item price, for example they may offer free after sales or free delivery. It is better to offer added value than reduce the cost of the actual product and charge more for related services, unless you are in a totally low price industry sector.
Clients usually prefer to get more for their money and negotiate a discount, rather than see an initial low cost and see the final bill add up with each additional extra.
You might also like...