The Best Locations for Sales Jobs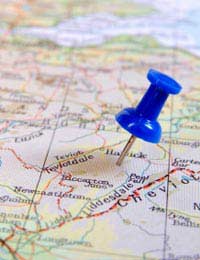 There are a large number of opportunities for impressive sales jobs across the UK, although there are certainly some prime locations that will offer you more in terms of salary and challenges.
If you are already working in a particular sector of sales and are looking for a new opportunity, it might be worth taking some time to see which UK cities are the most suited to your chosen career path.
It would be too simple to say that London is where it's at for every type of sales job. In some ways it's true – especially for certain professions – but there is also a great deal more competition in London, so let's have a look at the alternatives.
Leeds – The Second Financial City
Over the past five to ten years, the city of Leeds in West Yorkshire has become a popular location for the financial companies of the UK. Most of the large financial institutions that are represented in the City of London have their second main branch in Leeds. This means there are a great deal of opportunities for sales roles in the financial sector in Leeds, with the added bonus of lower house prices and a standard of living that may suit some people better.
Sales jobs in the financial sector include the positions in the institutions themselves, such as trading and brokering, as well as the recruitment companies that provide the staff for them.
Manchester
The excellent shopping that can be found in Manchester means that there are a large number of high end retail sales roles available in this location. In fact, Manchester is one of the prime locations for famous label boutiques and stores – such as Harvey Nichols and Armani.
Retail sales are a great career opportunity if you love fashion. Sales jobs in retail are also to be found across the great shopping locations of the UK – Birmingham and Liverpool sit alongside Manchester for good opportunities. You can register with recruitment agencies that specialise in retail sales, or go direct to the stores if you are at a more junior level.
London And The South East
It is true to say that a huge number of great sales jobs are in London and the south east simply because this is where most companies have their head offices. There is a great deal of competition but there are also plenty of chances to boost your career.
If you are happy to be a small fish in a very big pond, London is the place to be. You will have all the ups and downs of a colourful sales career alongside living in one of the most vibrant cities in the world.
There are endless amounts of industries with potential roles for sales people in London and the south east – telecoms, recruitment, banking, retail sales, IT and corporate sales to name but a few.
A great place to start is to speak to your local branch of a UK wide recruitment agency. Tell them what you are looking for and even if they cannot help they can at least point you in the direction of another of their branches.
You might also like...