How to Deal with Competitive Colleagues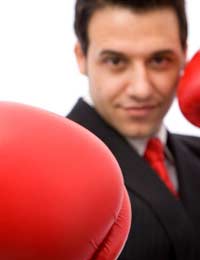 You will notice that the title of this article is 'how to deal with competitive colleagues' rather than 'how to avoid competitive colleagues' or even 'make sure you don't work with competitive colleagues'.
This is because it is impossible to avoid or not work with competitive colleagues when you work in sales.
The Character of Sales People
By their very nature, sales people are competitive – you have to be to succeed in sales. This means you are probably pretty competitive yourself, so really what we are talking about here is how to deal with competitive colleagues when you are competitive yourself.
Every good sales person wants to be top dog – the one who blasts their sales targets and puts the others in the shade when it comes to commission. You and your colleagues will all feel like this, but you are the one reading this, so it's you we'll focus on.
Working in sales allows you to feed your competitive streak – you get both a marathon and sprint in sales because there are usually a number of short and long term projects that need your skills.
You may be confident enough in your abilities to just let your colleagues get on with their projects and you get on with yours, but it is far more likely that you are going to be looking over your shoulder to see who is fast approaching your achievements.
Competitive colleagues broadly take two forms – the ones you know about and the ones you don't.
The Obviously Competitive Colleague
Some colleagues are so blatant in their desire to knock you off your perch that it can be far easier to deal with them. These are the people that will talk loudly in sales meetings and be the first one to sit next to a client at a marketing function. They have gone far in their career by being tenacious and hard working, rather than particularly strategic. These colleagues are worth working with, rather than battling against, as they are usually harmless but driven – a great trait in a sales colleague.
The Sneaky Competitive Colleague
Conversely, the colleague you should be most concerned about is the one that is not obviously competitive. They are the ones that are more likely to undermine your work when you are not in the meeting, or conveniently 'forget' to mention your involvement in a project. If you ask them to tell your boss that you will be coming in late after a client breakfast meeting, they'll miss out the 'client meeting' part, or not include you in an important email. These are the sneaky colleague that is quietly competitive, whilst trying to tip up your career – far more damaging, potentially, than the office terrier that is always looking for a deal.
The best way to deal with the blatantly competitive colleague is to offer to have them on your team, involve them in your projects and generally see them as an asset – they don't want to break you, just boost their own working career.
It's the sneaky ones you need to watch! Think about the colleague that is that bit too friendly, or the person who seems to be trying to undermine you. Be careful not to tell them too much, or they will use it against you and do not let them into your working strategies or plans as they will just poach them. Keep friendly, but don't forget that you know what they're like!
You might also like...