Are You a Natural Sales Person?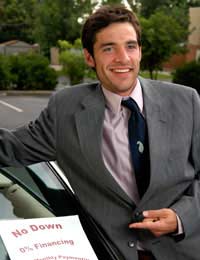 Being good at sales comes naturally to some people. They can't help but try and make a deal, whether it's getting a reduction on their car insurance or haggling over a carpet on holiday.
To these people, sales is a very suitable career because they are so comfortable with the idea of cutting a deal, getting a discount or making a sale.
Can You Ask For A Discount? (If Only For The Love of Cliff)
Conversely, there are those people that would rather listen to a whole Cliff Richards box set than even ask for a pound off their new sofa. They cringe at the very thought of asking for any sort of discount, even if it means they pay over the odds. If you see yourself in this (perhaps not the Cliff Richards bit) then you probably ought to accept that you are not a natural sales person.However, that does not mean that you cannot enjoy a successful career in sales. Perhaps you can choose sales as a job as long as you make sure you are in an environment that suits you. Many jobs have an element of sales, but would not be considered a 'sales job'.
Jobs Where You Don't Realise You're Selling
For example, if you think of a travel agent or a beauty consultant, they do not have to do the hard sell usually (although we have probably all come across those that do). By being an excellent travel agent, full of great insider advice about hotels and destinations, they may end up making great commission. Or the beauty consultant that is passionate about the latest colours and formulations of make up and can make customers feel like a million dollars – these are the people that can hit targets without having to sell their soul.
What we are really saying here is that you may be a natural sales person in one job but not in another. You may be that wonderful beauty consultant that listens to what you want, applies the perfect look for you and you end up buying everything that she used – all without so much as a 'If I may suggest, madam…'
If you are that person, with a love of cosmetics and making new friends, but you are actually working on a second hand car forecourt, making one sale every two months, then you may think that you are the most rubbish sales person ever.
Be Honest About Your Passion
You just need to be honest with yourself and understand your passion. That way, pretty much anyone can be a natural sales person. This was the idea behind pyramid selling (although they rather distorted the idea) – people want to buy from their friends. If you are offering something great to people who trust you, selling is that much easier.
Rather than trying to squeeze yourself into some sales role that doesn't suit you, work out what you believe in and take it from there. You'll not even realise you are selling!
You might also like...