Keeping your Sales Approach Fresh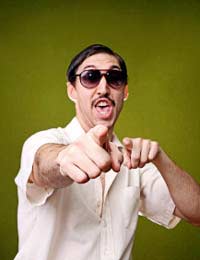 We've all seen them - the sales rep with a shiny grey suit, too much aftershave and their mobile in a faux leather holster, dashing out of their Mondeo and into a meeting.
You may think that you could never stoop that low, that you will always be at the cutting edge of fashion in your industry, but they probably thought that once, too.
These cringe worthy habits do not occur over night. They sneak up on you like love handles and an overdraft, so you need to watch out for the signs that show your sales skills are getting stale.
Make It Your Business to Know Industry Trends
All industries have trends, even if you think your industry is the most boring around. Perhaps the question you need to decide is whether or not you want to stay working in the same industry if you are not interested in following the trends.
Look at the trade press for your industry – there is always at least one trade publication for each industry, even if it looks like something from Have I Got News for You.
Read what your clients read; see what broad sheet or Internet articles relate to your industry. That way, when you have a client meeting you will be able to be knowledgeable about your industry, rather than just coming across as any old sales person.
Watch Your Competitors
It is important to know what your competitors are doing – either so you can copy them, or so you can smirk at their poor ideas. You need to know what marketing strategies they are using, their latest product launches and who their key personnel are.
Again, this is helpful for when you talk to clients, as you will come across as an expert in your field. It is also key to making sure that you keep abreast of the latest developments so that you can take on board any useful ideas and illustrate to your boss just how on the ball you are.
Watching your competitors is also helpful in terms of client entertainment. You need to be one of the first to know if your competitors are taking your clients on a jolly to Wembley, or giving out fancy champagne at Christmas. You don't need to do the same, just be aware of what is perhaps expected in your industry so you don't fall behind.
Be Objective
This is perhaps the trickiest point to bear in mind. After all, that rep in the shiny suit probably thinks he looks like Daniel Craig. Ask someone you trust to give an honest critique as to how you come across, if possible, ask someone who knows you in a professional setting, or at least a friend who works in a professional industry.
Make sure they are brutally honest and then take their comments on board. You need to be objective about your look, your approach and your sales technique. You don't want to get stuck in a rut because all too soon your pitching skills will be far from fresh, much like your aftershave.
You might also like...