Follow Your Passion to Be a Better Sales Person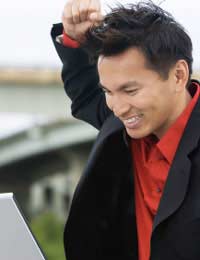 Unless you are the type of sales person that can sell ice to Eskimos, coals to Newcastle or any other cliché you can think of, it's better that you follow your passion instead of trying to make yourself believe in a product that you ultimately are not bothered about.
Like most jobs, sales can be done really well or can be atrocious. We have all come across those terrible sales people that either force their products down your throats and leave you feeling bullied, or, at the other end of the scale, the sales person that points out all the faults of their product and makes sure you never want to buy it.
Features and Benefits
A good sales person is able to put themselves in their customers' shoes and appreciate what benefits the product will have to them. The classic sales training course on 'features and benefits' is a classic for a reason – it works.
You may find that you can learn to be passionate about the product or service that you are employed to sell, in which case you need to make sure that this comes across to your customers and potential customers.
There is no point having excellent sales skills training unless you are able to convey it to your customers, so take it upon yourself to know your product or service inside out and see the development in your career progress. See if you believe in it – use the product, ask for feedback on the service. It can be totally heartbreaking to try and sell something that is considered useless or bad quality, especially if you are supposed to be the 'face' of the company.
If you feel as though you do not believe in the product or service you are trying to see, but that, ultimately, you enjoy sales, it may be that you are better suited to another company. It is amazing how different you feel when you are selling a product or service that you believe to be of a good quality and beneficial to your clients.
What Are Your Passions?
Think about your hobbies and interests as they are often a good place to start to try to follow your passion in a career in sales. Don't forget that even the most desirable products need to be sold, so why can't you be the sales person? There is nothing to be gained in just plodding along.
Continuing our 'coals to Newcastle' theme, let's just say you are a passionate Newcastle United FC supporter and a skilled sales person, currently disillusioned with your current employment. There are a number of sales roles in a large football club, such as season ticket sales on the telephone at one end up to the major corporate sponsorship deal negotiation at the other.
What is to stop you from applying directly to the HR department at the football club?
Go For It!
Whatever your passion is, there will be a related sales job - you just have to look for it. It just takes the confidence of knowing that you are good at your job and have something to offer your possible new employer. There is nothing wrong with saying that you love their product, or that you are a passionate supporter of their organisation – companies want employees that believe in what they do, so tell them.
You might also like...