Dealing with Difficult Clients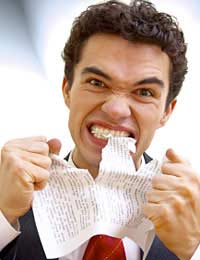 Unfortunately, dealing with difficult clients is part of being a sales person. In fact, you could say that dealing with difficult clients separates the good sales people from the really great sales people.
There is no point thinking that you can avoid difficult clients. Much like paying taxes and having to go to the dentist, a difficult customer is there whether you like it or not. You need to know how to deal with them instead.
Take a training Course
In order to know how to deal with a difficult client, you need to be able to identify them and their characteristics. Many companies put their sales staff through sales training that incorporates identifying different types of personalities that sales people will encounter. While these courses can be a little too general and give the impression that 'one size fits all' in each personality type, they can be a useful place to start.
You will find that character types of clients can vary widely and in order to address their own specific concerns, you need to be able to appeal to their personality. Some clients are more personable, but will happily drop you with no reason; other clients are totally up front throughout the whole process. Take time to think about what they are really like, what you know about them personally and how you can build a good rapport.
If your employer does not offer such training, you could either suggest that they do, or take it upon yourself to learn the skills that these courses teach. If you can afford to, you may wish to attend a training course in your own time, although you could also buy a suitable course book or take an online course.
Build Your Confidence
You may also find that additional training helps you to deal with difficult clients, rather than just the directly related courses such as 'overcoming objections'. Training such as NLP (Neuro Linguistic Programming) is a way of building your confidence and retraining your mind. It sounds New Age, but many sales people have found these courses a great way to change their thinking and feel more able to deal with problematic colleagues and clients.
Building your confidence also allows you to stand up for yourself with your clients. Don't forget that you can get bullying clients, too, who are getting their jollies by making you look silly. If you feel that you simply cannot work with a particular client, it may be better to hand them over to another colleague that may be a more suitable match. If you are not comfortable doing this, think about ways in which you can address their problematic behaviour.
Know Your Product
Some difficult clients actually seem more difficult than they really are. If you do not know your products and services totally inside out, a client asking questions can throw you off course.
In order to be able to hold your own with even the most demanding client, you must be 100 per cent able to describe every procedure, functionality and capability of the products and services you are trying to sell.
You might also like...