How to Arrange a Client Visit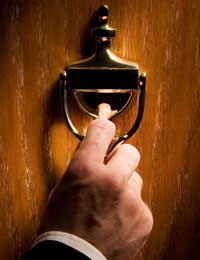 Every half-decent sales person knows that you need to make frequent client visits. Old clients, new clients and in-your-dreams clients – you have to see them all and make the most of the opportunity.
The thing about a client visit is that it can be really tricky to arrange them. You call the client and tell them how you can help them and they think you're desperate. Or you manage to make an appointment and they cancel at the last minute. Not to mention how irritating it is when you go to your client visit and they say that you haven't got an appointment.
A good sales person knows that you have to try to arrange far more client visits than you actually go on. Client visits are at the foundation of making sales, so they are terribly important - that's why most sales people have targets on how many client visits they attend, as it has a direct impact on their sales figures.
So, how do you arrange a client visit?
Effective Business Development
Effective business development is a good place to start. You may have targets for your business development calls, too, as they are essentially the precursor to obtaining a client visit. Business development calls can also go by the less appealing name of 'cold calling' – but the trick is to turn a cold call into a warm call.
Turning a cold call into a warm call is all about research and preparation. This can be tricky when you have a target of thirty calls in a week (or even a day in some sales jobs), but it will make your hit rate so much higher. Look through the list of business development calls you need to make and try to find out at least one fact on each company. Google is your friend! Then, when you call the client you will not sound as though you are simply reading from a script, you can tailor your offer to their individual company requirements. Try it for a short while and you will be able to see the difference.
Follow Up All Leads
Some sales departments employ people to generate leads and others buy in leads from lead generation services. Some companies just expect their sales team to generate all the leads themselves. Whatever is your company strategy, in order to make a sale or a client visit, you need to follow up all leads.
It is important to remember that any leads you have, unless you have super special personal relationships with the people giving you the leads, are likely to be known by other companies and probably your competitors. The longer you leave it before following up a lead the more likely some other company will have already made the sale.
If you are quick off the mark in following up leads, you have more of a chance to arrange a client visit to pitch to the client before another company gets in with them.
Be Tenacious
If you are making good quality business development calls and following up all leads and are still not arranging a number of client visits, perhaps you are giving up too easily.
You cannot expect to just make one call and get a meeting. Call back, do some more research, change your angle. You don't have to pester them, just prepare your pitch and be tenacious.
You might also like...