Top Tips on Qualifying Sales Leads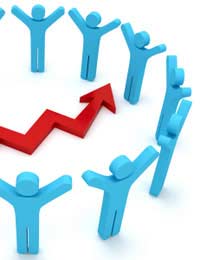 If you can get particularly good at qualifying sales leads you will find your earning potential go up significantly.
A sales person that can turn a sales lead into a sale is worth their weight in gold – and that weight can be considerable because of all the all-expenses lunches and taking clients out to fancy places – so don't underestimate the importance of learning the tricks for qualifying sales leads.
The best place to start with a sales lead is to appreciate where it came from. This may sound strange, but what it means is, did the lead come from a person, a lead generation service or through market research, for example?
If the leads come from a person, think what their involvement is in the potential project, or what they have to gain from passing you the lead – might they get work from it, or some sort of other benefit? Although there is no reason to be especially cynical, you really do need to know 'what's in it for them'.
Personal Referrals
The best way to qualify a lead from a person is to do your own homework on why they would wish to pass you the lead and what they have to gain from networking with you. You can then start the process of qualifying the lead with this information. If, for example, your contact has past you a lead that says a certain company is looking for a commercial agent to find them a new property, and you are a commercial agent, it may be that the contact is from an office design company that wants the contract. Of course, this is how business works and essentially you have to accept it, although there will be an unspoken agreement that, if you win the contract, they will at least be requested to pitch for the design contract.
Lead Generation Services
If the lead has come from a lead generation service, you will need to be aware that this is their business. As such, lead generation services can give what they consider to be 'hot leads' which are actually little more than gossip and speculation, but, because you are paying for the service, they need to provide you with some information. Therefore, you need to do more work to qualify them but, as with gossip, there is often no smoke without fire, so you can find some good information this way, without having the 'back scratching' required with personal leads.
Market Research
If the lead you have has come from market research, you have stolen a march on your competitors and you need to turn this to your advantage. It probably also means that you have an excellent business development team, so make sure that you congratulate them on a job well done, so that they can do it again! This can be a costly way to get leads, because you need to pay someone a salary, but it can work out more cost effective that having to schmoose with contacts or the extra work that is required from a paid for lead service – which all your competitors probably get too – so it is often to best way to get some really juicy leads.
You might also like...