Understand What your Client Wants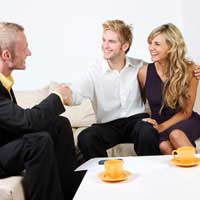 Pitching to a new client is an exciting part of sales. It can be nerve-wracking, frustrating and fruitless, of course, but it is also a chance to put your all your hard one into a terrific opportunity.
Most clients will arrange or accept for a sales person or team to pitch to them because they have a particular or potential need for your products or services. That's a lot of 'or', but in reality it means that a pitch is an opportunity.
How you deal with the opportunity is up to you, but unless you are able to harness all of your sales training and client expertise, you are unlikely to be making good commission and succeeding as a sales person.Pitching to a new client and then winning the business is the very life blood of sales – without it, your career will soon shrivel up. You need to be able to make that meeting count so that you are in the best possible position to turn it into a sale.
Build Good Rapport with Your Client
Before you get to actually make the pitch to a new client, chances are you will have had some contact with them, either on the phone or following an introduction at a networking event, perhaps.
Think about what you already know about the client and work on building a good rapport with them. This may sound mercenary, but it is simply an important part of how business works, especially sales businesses. Building good rapport is all about making yourself easy to work with, appreciating the character and needs of your client and taking them into consideration. You don't have to become great mates but you do have to have a mutual feeling that you can do business together.
Listen to What the Client Tells You
This may sounds obvious, but it is amazing how few sales people actually listen to what the client says when they are talking about the pitch. It is rare that a sales person is expected to just go and pitch to a new client without any conversation before hand – however short the phone call is to make the meeting.
Not only should you take care to listen to what the client tells you but you should also research them and their company as much as possible. The joys of the Internet have made company research so much easier and, by using a variety of media, you can get a good cross section of the company and its aims.
If you are able to have a direct conversation about your client's requirements before the pitch meeting, take plenty of notes and have your wits about you. This is not the day to turn up hung over and thinking about where to buy a bacon sandwich. You need to remember every detail in order to make sure that your pitch is perfectly in tune with their needs.
Making the Pitch
If you have built a good rapport with your client and listened to every detail of their needs – especially those subconsciously hinted at ones that will show just how in tune you are – making the pitch and closing the deal should be a piece of cake.
Be careful not to overplay just how chummy you are though as this can really irritate a client. You still need to be professional when you are making the pitch, especially as there are likely to be other client team members present that you do not know so well.
Incorporate everything you have learned about the client in the pitch and you are far more likely to sell to them as you will have proved that you have an understanding of their business and how you can respond to their needs.
You might also like...