Know your Product Inside Out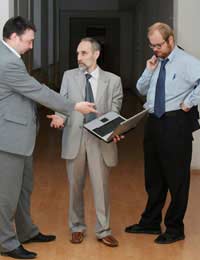 The best sales people know their product or service inside out. You cannot just bumble through a sales pitch with a new client and hope that your sparkling wit and charm will carry you through – clients are far more discerning and, in times of difficult economic forecasts, are having to justify every penny they spend.
You need to take it upon yourself to learn every possible detail about your product or service, know all about the history and heritage of your company and be totally clear about the features and benefits of your products.
When you are seen as the expert in your field, you can start to step away from 'selling' your product, in the classic sense, and focus more on 'introducing' your product or service to a wider audience. Unless you are selling something really ludicrous, chances are there is a target market out there for your product – people do want and need to be buying products – the skill comes in making sure they buy from you.
What Is The Product?
You need to be totally clear about the product you are selling or the service you are offering. When you first start your sales role, or when a new product or service is introduced, allow yourself time to get acquainted with the functionality of the product or the style of the service.
Don't just launch yourself on a client with the item in question, you need to be natural and comfortable for the client to consider buying from you.
Some people can sell ice to Eskimos and just have a natural sales ability (which can be great or really cheesy) whereas others need to totally believe in the product they are selling. Even if you fall in the former category, it is worth making sure you understand the product and feel passionate about its capabilities.
What Is Your Product or Service USP?
The Unique Selling Point of your product or service will often form the backbone of how you sell it. Take time to appreciate the performance and make up of the product – perhaps it is labour saving, or environmentally friendly, or energy saving – the list is endless. It is up to you to identify the USP of your product and then inform potential customers.
With a service based offer, you need to know what you do differently, how what you have to offer is better than the competition. Don't go criticising the competition, just be sure of your USP.
Think of the Features and Benefits
Your knowledge of the product you are selling is key to the client – you need to point out the features and benefits of the product rather than just explaining the actual product.
You are likely to receive some training in this area as it is widely considered to be the most important part of sales – just remember the line 'don't sell the sausage, sell the sizzle'!
In order to get a potential customer to buy your product, you must be able to highlight all the features and benefits of the product. This will stop it sounding like the hard sell because in sharing your knowledge of the product and its value, your customers will want to buy it and feel as though they have made that decision by themselves.
You might also like...