Ice to eskimos? What can you sell?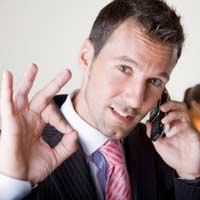 Some sales people just have the gift of the gab. They turn every opportunity round to their advantage and manage to make people buy into their ideas without the hard sell (sometimes with the hard sell, too!)
Other sales people are more about sharing what they believe in with their potential customers. They can sell a product that they value quite intuitively, but if you asked them to sell a random product (or that classic yuppie sales interview question of 'sell me this pen') then they will probably flounder.
So, which one are you? A natural sales person is a very appealing employee for a vast number of sales businesses, but they can also be a difficult person to manage. If you are an 'Ice to Eskimos' type sales person, it is a good idea to take your time in deciding which types of selling to specialise in.
It is too easy to think that a natural sales person can just go into any sales role and flourish, but the truth is that this style of sales can be incongruous with a number of industries. However, natural sales people also have a variety of styles that make them more or less suited to different sales jobs.
Do You Have It?
Take, for instance, the type of 'barrow boy' sales skills that are often seen at markets and non-chain mobile phone shops up and down the country. These people have an easy style of selling that some customers find appealing – and helps them along the way of earning a good living. This style can also be found in trading and banking institutions, albeit in a very different working environment.
If you are currently working in a company where you feel your natural sales style is not being exploited, and in turn you are not reaching your earning potential, think about where else your selling skills may be appreciated. It may seem like a total change of career, but you would be surprised at the similarities. Speak to a recruitment consultant that specialises in other sales fields and get some new ideas.
Can You Fake It?
If you are more of a sales person that can only sell what they really believe it, you have two options. Either learn to fake it or find a sales job that plays to your strengths. Faking it can give you far more options in terms of employment, but can also leave you feeling unfulfilled and dishonest with yourself. Far better to understand where you feel you can flourish and then make sure you find employment in that field.
For some people, this means that you need to be your own boss. If you have a product or service that you truly believe in, either as a sales representative or as the company boss, then you will find your career fulfilling and purposeful. If you are applying to work for suitable companies, be sure to play up your approach to sales, as long as you do not sound too judgemental.
Your potential employer will probably value your honesty and will be flattered that you feel strongly about their product or service. This will then be passed onto clients and customers and your employer will be able to make the most of your high quality selling techniques.
You might also like...