Don't let Colleagues Take the Credit for your Sales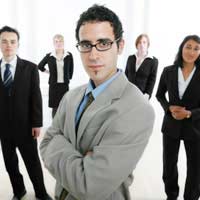 In the competitive world of sales, you cannot afford for your colleagues to take the credit for your achievements.
You cannot afford this to happen both in the literal sense – your commission will take a huge battering – or in the emotional sense, because you will not gain the reputation you deserve, which will have a terrible impact on your career.
In order to succeed in sales and make sure that you are not trampled over by more assertive colleagues, you have a duty to yourself to learn how to stand up for yourself and make sure your hard work is recognised. This does not mean that you need to be one of those irritating people that only ever talks about themselves and is so defensive that nobody wants to work with them – it's just that you have to know when to shout about your achievements. If you don't, who will? (And no, your mum and grandma coming into the office is not an option.)
Taking the Credit in Sales Meetings
It can be really hard to stand up for yourself in a sales meeting if the colleague trying to take credit for your sales is sitting right next to you and is totally charming the rest of the people present.
If you say 'Actually, I was the one that won that sale', you will end up looking childish and not at all like a team player in front of your employer. However, if you don't say anything, your sneaky colleague will allow it to be implied that they won the business and you will end up fuming. The best way to handle it is to say something like 'Yes, I'm really pleased to have won that contract' as it will not look bitter but you will have asserted your involvement.
Many competitive colleagues that feel the need to take credit for someone else's work know exactly what they are doing and are prepared to do whatever it takes to boost their own careers. It would be lovely to say that they will eventually get their comeuppance and the good guy wins in the end, but this is not really what happens. Rather than waiting for such times that may never occur, take the bull by the horns and say something at the time – you don't have to sink to their level, but you do have to fight your corner. That's just sales.
Taking the Credit in Front of Clients
This situation is a little trickier in that you have the reputation of the company as well as your own to uphold. When your sneaky colleague starts taking the credit for your hard work in front of a client and their staff, you will have to make a very quick decision as to whether it is better to say something or keep quite.
Essentially, it will depend on the relationship you have with the client. If you feel relaxed with them it will be easier to say something than if you are still very much trying to win business. It may be a better idea to wait until you are alone with the colleague and say something then – don't make a big deal of it, just let them know that you noticed.
You might also like...